All Articles
3 Marketing Resolutions for 2019
By Tayler Patterson
As the new year rolls in, many people think of it as a time to press the restart button. The gym becomes the busiest place in town and people are writing out various goals and resolutions for the year ahead. But instead of just focusing on your own personal resolutions, why not look at the new year as a time to improve your business as well? It's a great time to take a step back, refresh, and refocus. Look back at the past year and determine what worked for your business, and what didn't. Make some new goals or revive old goals that may have gotten slightly overlooked. To help you out, we compiled a list of some 2019 marketing resolutions that will help you improve your marketing efforts.
1. Focus on User Experience (UX)
Our first marketing idea for the new year is to take a close look at your website and focus on user experience (UX). To do this we recommend a manual audit on both your desktop and mobile device. With Google's recent change to mobile-first indexing, it's especially pertinent to make sure your website is user-friendly on mobile devices. Here are some things to look at when assessing your UX design.
Keep It Simple
For a great UX design, don't get carried away by all of the design options out there. Rather, remove any unnecessary elements and keep the design simple and effective. Give your readers the information they want quickly and easily or risk them exiting your site for a competitor.
We know it gets tempting to add every button, bar, and switch available, but don't forget about the actual user. Often websites that overuse elements become cluttered and hard to use. Sliders (also called carousels) are an example of an element that seems simple and clean, however, most users ignore them and they slow down your site, affecting your SEO. With too many elements, readers have a difficult time distinguishing important information and the purpose of the page.
Don't take this to mean that you can't use any elements, however. Use elements to improve the functionality and make important information more pronounced. For digital marketing in 2019, your website should be clear and intuitively guide the user through different pages. Use familiar elements so users are able to predict how the website will behave. And don't forget to look at your UX design from a mobile perspective as well!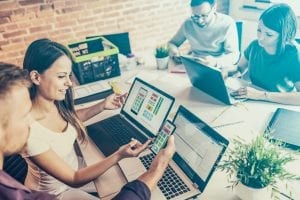 Increase Site Speed
We've said it before and we'll say it again: Site speed is extremely important when it comes to user experience and SEO. Google has stated that site speed is a signal used to assess websites in their ranking algorithm. If you haven't tested and improved your site speed before, 2019 is the year for this marketing resolution. Various ways to increase the speed of your site include compressing files and images, reducing redirects, removing unused code, and leveraging browser caching.
Header Hierarchy
One of the most simple ways to improve the UX of your website (and improve your technical SEO layout) is to improve your header hierarchy. Your headers are a way of telling search engines and users what your content is about. They should follow the structure of H1, H2, H3, etc. It is also a good idea to try and use your target keyword in your H1 if possible.
Your H1 header should only be used once, but the other headers can be used multiple times, as long as they still follow the correct structure. Header hierarchy seems so easy that everyone should be using it correctly, but you would be surprised to find out how many sites have messy headers. Don't be one of those sites- header hierarchy is a fairly easy marketing resolution!
2. Create a Blog Strategy
If you aren't blogging for your business you are missing out on the opportunity to drive even more traffic to your site. And if you are blogging for your business but don't have a key strategy in place, you're also not getting the full benefit of blogging. Blogging is a great way to bring in traffic because it gives you more space to offer relevant and important content for users, building brand awareness and leading to conversions. One marketing idea for the new year is to develop and consistently follow a blogging strategy.
Keywords
When people think of blogging and SEO, keywords are probably one of the first things that come to mind. Keyword research has been (and still is) one of the most important aspects of SEO. You can create great content, but keyword research helps you deliver that content to the correct audiences.
You want to predict what terms your intended audience would be typing into search engines for your specific blog post to pop up. There are many tools that can help you do keyword research. Google's Keyword Planner and Moz's Keyword Explorer are both great resources. Both tools will give you the average search volume for suggested terms as well as competition level.
Use your target keyword and a few related terms and phrases throughout your content. This helps Google understand what your content is about and rank it accordingly. When picking your keywords, don't forget to take into account the purpose of the page. Is the page meant to provide information or lead to a conversion? This will affect the types of keywords you choose.
Pillar and Cluster Strategy
One blog strategy that you can implement in 2019 is the pillar and cluster strategy. This strategy is all about creating one all-encompassing pillar page on a specific topic. You will then create multiple cluster posts that offer more in-depth information on the pillar topic. Then you can link all of the cluster pages with the pillar page and vice versa. This gives your pillar pages more authority, leading to higher rankings.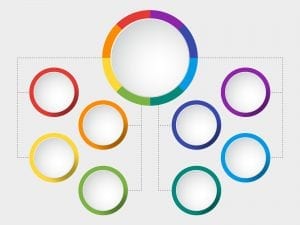 For example, say that you want to create a pillar page on Yoga Workouts. You could then have cluster pages on yoga workouts for weight loss, morning yoga workouts, calming yoga workouts, Bikram yoga workouts, etc. As many cluster topics you can think of the better. Not only is the pillar and cluster blog strategy great for SEO, but it also organizes your site better for users as well as Google. It creates clear pathways that lead to and from related pages, showing in-depth knowledge and expertise on the subject. Crafting a pillar and cluster strategy is a great marketing idea for the new year.
3. Adopt a Task Management System
Now I know this may not seem like a marketing resolution, but staying organized and on top of everything is actually a major part of successful marketing (and really anything). Digital marketing in 2019 can be so broad that without some kind of system keeping you up-to-date on tasks and assignments, something is sure to slip through the cracks. Whether it's your paid ads, a new campaign you were planning, the optimization of your existing blogs, or updating your meta titles and descriptions, you can't afford to forget about any of it.
Instead of trying to remember all of your to-do's, task progress, and the employee that was assigned the task, adopt a task management system to help you out. Some great options are Asana, Trello, and Basecamp, but there are other tools too. Just determine what tool is right for your business and begin implementing it into your daily life at work. This way you can see exactly what needs to get done, by who, and by when. The system will also notify you when tasks are completed. Not only will this save you the energy of not having to remember every task off the top of your head, but it also saves you and your employees' stress.
New Year, New Goals!
So, take on 2019 with some new marketing resolutions that are sure to increase your digital traffic and bring in more leads. You also might decide that 2019 is the year to partner with a marketing agency for some or all of your marketing efforts. It is expensive and difficult to hire expert-level marketers in your company and you don't have the time to learn it all either. Contact us today for a consultation to see what the best options are for your business.