All Articles
Stop Wasting Your Time Creating The Perfect Digital Marketing Plan
By Sierra Anderson
If you have just started a business or are finally starting to put some real marketing efforts behind your business, it can be overwhelming for sure. There are no hard and fast rules in marketing- especially in digital marketing. As new technology becomes available, search engines improve their algorithms, or cultures and consumer preferences shift, so do marketing trends, techniques, and strategies. On top of that, there is an abundance of free information, opinions, and accepted practices that are readily available, all saying different things, making it hard to know where to start.
Digital marketing is a whole beast and it may seem like you need to devour it in one bite. But in reality, not only is that pretty unrealistic, it might even be impossible. Contrary to what you may see in all of the guides and playbooks, you don't have to utilize every marketing channel to be successful. In fact, we suggest taking small bites, making sure each piece is fully chewed and digested before moving on to the next.
Plan First
Once you decide to start a business or give digital marketing a go, it can be alluring to immediately start writing blogs or designing Facebook ads. Resist this temptation! Develop a strategy and put a digital marketing plan in place first. You may not actually begin writing, posting, or emailing for weeks. And that's okay. It's important to first understand why you want to start marketing, who you are marketing to, what your value proposition is, and how you are going to reach your potential customers.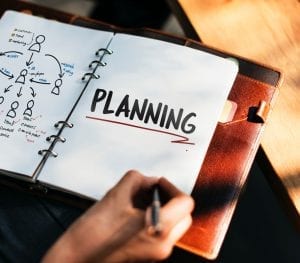 You will want to create customer profiles, determining who exactly you are targeting. This will help you determine what kind of content you should be creating and the main channels you should begin focusing on. Although your marketing strategy development is important, don't get too hung up on it being perfect. Your strategy may change as you move forward (I'll talk more about that later). But by beginning with a strategy in place, you can see what is working, what isn't, and move forward from there.
It's Okay to Start Small
There are many different channels that fall under the digital marketing umbrella including email, social, SEO, paid advertising, content marketing, blogging, and more. And, each channel has the opportunity to send a different message, reach different audiences, and bring in more potential customers. Having an integrated marketing campaign across all of these channels is ideal, but we understand how much time, money, and effort that takes. And when you are just starting out, you probably don't have much of any of those. So start small.
Maybe start with a blog. A blog is a great way to start adding fresh, relevant content to your site and you can even post your blogs across your social media profiles. But, remember, it's important to have a content strategy for posting valuable content on a consistent basis. We will never stop saying this- consistency is key! So, determine how often is realistic for you to post. If it's once a week great, if it's once a month, that's fine too. Just stay consistent. You can start to post more frequently as you grow, have more resources, and have a clearer understanding of your blogging strategy.
Once you feel like you have been blogging on a consistent basis and are ready to further improve your marketing, maybe then you add email marketing or another channel you choose. By slowly integrating different marketing channels instead of trying to do them all at once, you can make sure each channel is done to the best of your ability.
It's Okay to Change Your Digital Marketing Plan
Marketing is all about testing, evaluating, and changing course if need be. While it's important to have a strategy in place, your strategy will likely evolve and change. And likely more than once! Use data to determine what is working, what isn't, and how you can optimize your strategy from there.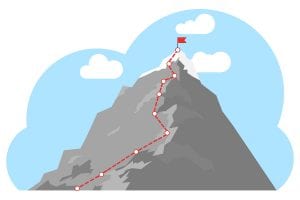 For example, say your original digital marketing plan was to post four blogs per month: one news blog, one opinion blog, and two instructional blogs. Well, let's say after a few months of following this strategy and collecting data, you notice that your opinion blogs are gaining more traffic and engagement than your instructional blogs. You may then decide to test posting two opinion blogs per month and only one instructional blog.
After gathering a few more months worth of data, evaluate how this change affected your traffic and conversions. And, don't be afraid to change your strategy again based on these new findings. You should never choose a digital marketing strategy with a "set-it-and-forget-it" type mindset. Always go back and see where you can improve and continue your marketing strategy development.
To Sum It Up
In the end, your digital marketing plan and process should be what works best for you. Don't let an internet blog tell you that you need to be emailing a newsletter everyday, blogging four times a week, and posting ads across Google, Bing, Facebook, Instagram, and Twitter. Even if a digital marketing "expert" is telling you "this is the right way to do digital marketing," if it doesn't feel right for you and your business, ignore it! And that even goes for this blog. If you want to jump into digital marketing and do everything, all at once, go for it! Just don't feel like you HAVE to because you think or have been told that it's the only way you will be successful.
Here at Firetoss, we partner with businesses to create, execute, and optimize digital marketing plans. Our experienced marketers can bolster your already-present marketing efforts, or work with you on marketing strategy development from scratch. Contact us today to see how we can help you!