All Articles
Lighting the Way With Hammerton Studio
By Sierra Anderson
What do you get when you combine extraordinary lighting design and artisan craftsmanship? The answer is Hammerton Studio. Hammerton Studio is a decorative lighting company, paving the way with innovative pieces inspired by custom work and brought to life by the experienced designers. Since 2014, Hammerton Studio has been pushing the boundaries with lighting, creating unique, handcrafted pieces with a level of craftsmanship that can't be found elsewhere.
We were so excited when Hammerton Studio approached us to partner with them in building their new website. We understood the importance of capturing the innovation and beauty of the products and matching the quality and aesthetic of Hammerton Studio.
The Build
Knowing that one of the biggest challenges with Hammerton Studio was translating the beauty of their products through a digital lens, our design and development team focused on the look and feel of the site. One way they did this was by creating and structuring the collections page to capture the quality of craftsmanship and gorgeous design of Hammerton's various fixtures.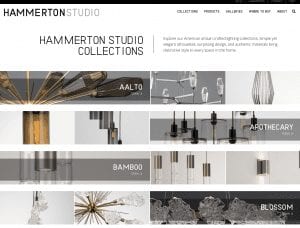 With the collections page, users are able to browse the different styles Hammerton Studio offers, deciding which unique look will fit into their desired space. It also gives users an easier way to navigate through the wide range of products manufactured by Hammerton Studio.
We love the way this page turned out. How it was designed and how it programmatically came together was exactly what the client was looking for. It gave the website a professional, high-end touch, appealing to the customer base who would be interested in Hammerton's products.
Customization
Once users click on a specified collection, they are able to see the full range of products available to them, including custom options. A unique feature we added to their site allows a breakdown of each customization option instead of only giving users the option to "contact us for more details." Users can choose the finish, lens, and shade of their fixture all from the site.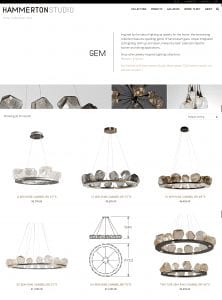 Our Favorite
One of our personal favorite collections is the Gem Collection. This collection was inspired by lighting as "jewelry for the home." And, we can see how the Gem lighting fixtures truly do resemble beautiful gemstones, adding a unique and elegant touch to any space. The product quality of Hammerton Studio is unmatched and their ability to design and manufacture fixtures in multiple styles unrestrained by material or technique sets them apart from any competitors.
The Finished Product
After many meetings to fully understand the vision and goals of Hammerton Studio, the finished website was everything they wanted and could have hoped for. An elegant and beautiful site to match the elegance and quality of products Hammerton Studio offers. We love working with companies that are so innovative, leading the way in their respective industries. The combination of old-world artisan techniques with modern design and manufacturing abilities is what makes Hammerton Studio a step above the rest. If you want to be inspired by the craftsmanship and design of Hammerton Studio, head over to their website and take a look around. Don't forget to watch the videos showing the process used by Hammerton's designers and metalsmith's- it will truly amaze you!
If you are looking for a new website, Firetoss is a full digital agency that will design, develop, and support your website. Contact us today to start your project- we can build you a new, beautiful website specified to match your business and goals!