SEO stands for Search Engine Optimization. SEO is the process of increasing your website traffic from search engines like Google by leveraging search engine friendly elements on your website, as well as outside signals that help search engines determine your reliability. At Firetoss, we address three types of ranking factors when optimizing a website: on-page factors, off-page factors, and user behavior factors. The basic idea is that by optimizing for these factors, your website will rank higher for important search terms that your target audience is searching for on Google.
How does Google rank websites?
Google uses a complex formula to rank websites called an algorithm. There are hundreds of factors that go into this algorithm, and the importance of different factors varies. Google's end goal when a user enters a search is to deliver the best search results possible. When a keyword is entered into Google, Google crawls the web and looks for the web pages that are most relevant to that keyword.
Searching on Google is a lot like asking a question. The goal of search engines is to provide the best answers to your questions.
So figure out what keywords or phrases you want to rank for, and ask yourself: how well does my web page provide an answer to that search?
For example, if someone searches for window blinds Utah , Google wants to show you results that best communicate that they are about window blinds in Utah. Google looks for expertise, authority, and trust when crawling the web. The sites that prove they are experts on that subject will get rewarded with higher rankings.
The importance of keywords and search terms
Keywords are the core of SEO. When deciding what keywords you want to focus on, you need to think about a few things.
The first thing you need to think about when choosing keywords is your target audience. Research what you think your best customers will search for. For instance, say a parent with a troubled teen searches help for troubled teens, but another parent in the same situation searches wilderness therapy.
The first parent is early in the research stage of finding a solution. They could be searching for a number of things related to helping troubled teens. In contrast, the parent that is searching for wilderness therapy is clearly aware that wilderness therapy is a solution to help troubled teens, and is specifically looking for more in-depth information. To go a step further, if someone searches for best wilderness therapy programs we can assume they have high interest in enrolling their child in a program and are now comparing reputations among different programs.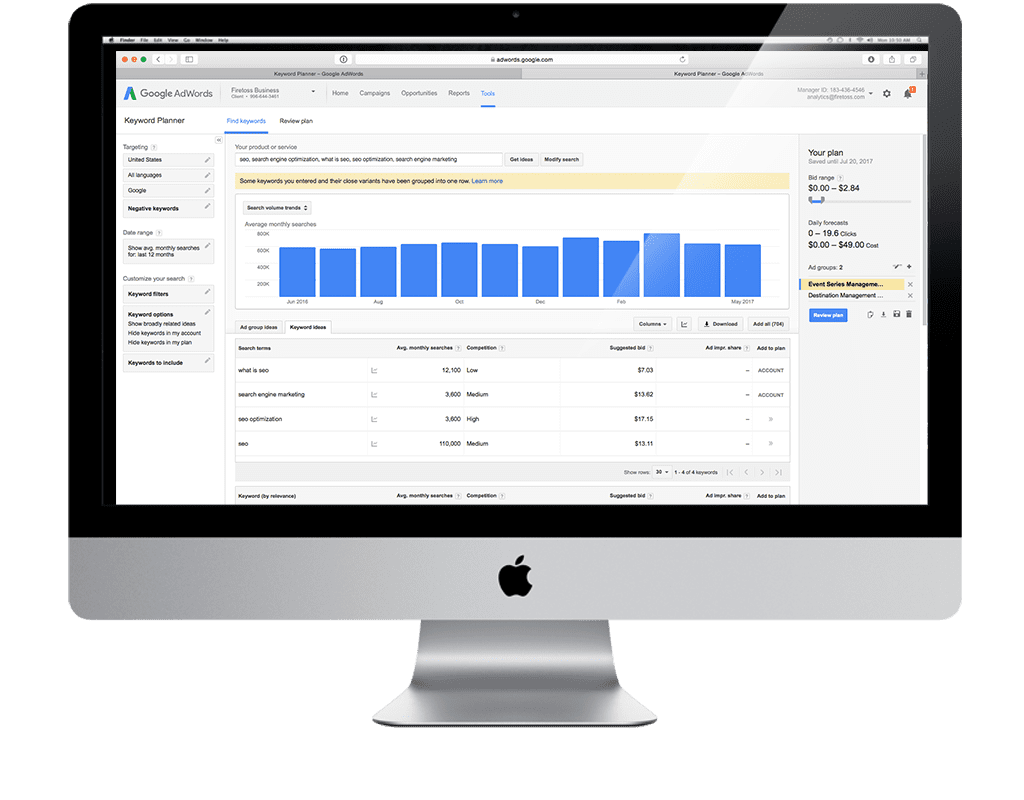 If you ran a wilderness program for troubled teens, it would be beneficial to rank for all three terms. Keywords that contain wilderness therapy, however, are going to attract a more targeted user because they are already aware of the programs, and are now relying on Google to tell them what their best options are for wilderness therapy.
The second part of keyword research is just as crucial.
Search volume is a huge deciding factor when analyzing what keywords you want to rank for. As I already expressed, it is important to try and figure out what your best customers will search for. Before we decide to optimize around that keyword, we need to make sure people actually search for that term.
By using a keyword tool like Google's Keyword Planner you can look up search volume for different keywords and get new ideas for relevant searches that are also getting traffic. You will notice that broad terms like search engine optimization have a very high amount of searches, where something more specific like Utah SEO services will have fewer searches, but is much more targeted of an audience.
Takeaways:
Don't focus on targeting broad search terms just because they have high search volume
Find search terms specific to your target audience so you attract quality traffic
Make sure your target keywords have search volume, and that you aren't targeting keywords that no one is searching for
SEO ranking factors
What does it take to rank? Well, Google's algorithm is very complex. With over 200 ranking factors that influence how Google ranks websites, there is a lot to consider. Despite having so many factors at play, there are some that carry a larger influence than others. Below are three different categories of ranking factors, and some of the most important ranking signals.
On-Page Ranking Factors
These ranking factors relate to elements on your website that influence ranking. The following factors are some of the most crucial on-page elements to optimize. Having your focus keywords integrated into the first 5 of these is key.
URL's
Title and description tags
Heading tags
Images
Content
Page load time
Mobile friendliness
Freshness of content
Off-page ranking factors
When we say off-page factors we are talking about signals from outside sources that help Google understand how trustworthy your site is. Here are a few off-page factors for you to consider.
Consistency in your business information online (Same name, address, and phone number around the web)
Quantity and quality of reviews on sites like Google, Facebook, Yelp, etc.
Links from other relevant, authoritative sites

Having relevant, authoritative sites link to your website is a significant factor.
Think of links as votes for why a website should rank. Links from trusted, authoritative sites carry more weight than links from lower quality sites, so obtaining quality links is key.
User behavior factors
How a user interacts with your site is an indicator to Google on the quality of your website as a search result. Think about the following questions.
How many people are clicking on your search result in Google?
How long are people staying on your site?
Do people go to multiple pages once they land on your site?
If you are receiving a high volume of clicks and users are spending quality time on your site, Google will take that as an indication that your web page offers a good answer to their query.
Why is SEO important?
SEO has one of the best ROI's in all of advertising. This is because you are able to market to people in the exact moment when they are searching for the products or services that your business provides. If you rank well for your most important search terms, you have an incredible opportunity to prove to potential customers that they should do business with you. Who can't see the value in that?
Questions? We would love to hear from you. Contact us HERE.