All Articles
Task Manager or Partner? Why Hiring the Right Marketing Agency is Important
By Tayler Patterson
With the continual evolution of digital marketing, it's extremely difficult for small and medium-sized businesses to stay updated and keep their marketing strategy fresh. It's easy to prioritize other things and leave your marketing strategies ignored or forgotten. Marketing is hard work and takes a diverse set of skills, and it's all too easy to put it on the back-burner when you don't have the time, energy, or knowledge to create a complete marketing strategy. But, if you are looking to grow your business, bring in new customers, and increase conversions, marketing can't be ignored. That's why many businesses have turned toward hiring a marketing agency to help market and brand their business.
Do I Really Need to Hire a Marketing Agency

?
The fact is, digital marketing is always changing, and keeping up with the latest trends in search engine optimization, website design, and online advertising requires a large investment of your time. Additionally, hiring and managing the right marketing staff internally can be an arduous task. Your team needs to have marketing expertise, and ultimately needs to understand the specifics of your business and industry to be successful.
Instead of hiring in-house marketers, it might be better for you and your business to hire a marketing agency. If your business operates in an industry that constantly changes, requires in-depth expertise, and is heavily competitive, hiring a marketing agency might be the right choice for you. Agencies have teams of people dedicated to understanding the latest marketing trends and specializing in various marketing disciplines. This means your marketing strategy will always be up-to-date and integrated across different channels with dedicated resources for you to turn to with questions and ideas. If you choose to hire a marketing agency, then the challenge becomes, who do you trust to handle the marketing of your business? Trust is the foundation for a successful partnership with a marketing agency.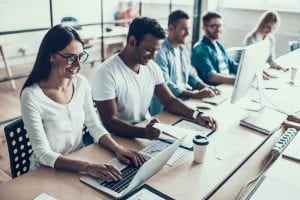 Choosing a Marketing Agency
Certainly, smart business owners understand that marketing is an important aspect of their business. But, often they aren't equipped with the bandwidth to do it themselves and don't know how to find outside help. It can be difficult finding the right fit because not all marketing agencies are the same. So, how do you know if an agency will truly work with you, improve your marketing strategy and spend your budget efficiently? And how do you know when an agency is just a task manager? Choosing the right marketing agency doesn't have to be difficult, it just takes time to understand your wants and needs.
The first step in hiring the perfect marketing agency for your business is to understand what you need help with in your marketing mix. There are so many marketing agencies out there, all with different skill sets and services. Often, you can pick and choose services that are best suited for your business. Or you can use an agency for all of your marketing needs. Here are a few different types of marketing agencies that you can choose from, all offering specialized and unique services:
Types of Marketing Agencies
Traditional Advertising Agency: Think Mad Men. This type of marketing agency will help create advertisements for your business. This includes advertising for television, magazines, newspapers, billboards, radio, internet, and more.

Branding Agency: A branding agency usually offers more limited services, specializing in logo design, brand name development, market research and segmentation, graphic designs, and more.

Digital Marketing Agency: This type of agency focuses on the online portion of your business. This will include services such as web design and development, search engine optimization, content marketing, paid online advertising, email marketing, social marketing, and more.

Social Media Agency: Specializing in social media networks, a social media agency will manage your brand on networks like Facebook, Instagram, YouTube, Twitter, and more. They often create engaging content to help funnel users to your website through social networks.
And those are just a few of the most common types of agencies, there are also public relations agencies, content marketing agencies, email marketing agencies, and more.
Creating a Partnership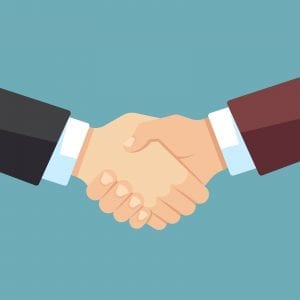 No matter which type of agency you choose, there is an important distinction to make between a task manager and a partner. A partnership consists of a marketing agency working in tandem with you, fully committed to the success of your business.  And unfortunately, this isn't how all agencies operate.
If you want an agency that will just wait for instructions, complete tasks, and send them back without any more thought into strategy or goals, that isn't a partner, it's outsourcing. You would expect any partner in your business to be invested in its growth and success. An agency that acts as a partner must be committed to improving and growing your business alongside you. This means they will take the initiative to develop new strategies, innovate and promote new ideas, and suggest improvements that they think will lead your business to succeed. A partner will analyze the data and optimize your marketing efforts based on your business needs. They will provide fully transparent reporting, so you always know what is happening with your business. In a partnership, you should be able to trust that your marketing agency has your business's best interests at heart and they aren't just trying to sell you on new services or bill you for additional tasks.
Final Thoughts
Hiring a marketing agency isn't just about outsourcing marketing tasks, it's about utilizing the knowledge and experience of the marketing experts that work there. One of the many benefits of a marketing agency is that instead of having a few (or even one) in-house marketers trying to know and do everything, you get a team of specialized experts that all work together to create an integrated, complete marketing strategy. If this team of experts is just doing what you are telling them to, instead of working with you to create, optimize, and execute the best possible strategy for your business, it's probably not worth the investment.
So, find an agency that acts as a partner for your business. Here at Firetoss, we truly believe in creating partnerships with our clients and working together to create the best outcomes possible. If you are looking to hire a marketing agency, contact us today to learn how we can help you.