All Articles
Social Axe Throwing: UX That Hits the Mark
By Tayler Patterson
Inspired by a YouTube video of GOT star Jason Mamoa "sipping beer and chucking an axe," the creators of Social Axe Throwing got an idea. Originally planning to open a coffee shop, they quickly realized that although this new axe-filled idea was seemingly crazy, they had stumbled upon something amazing, and Social Axe Throwing was born. 
Determined to bring this new dream to life, they got to work building out their business and opened the doors to their first location in Ogen, Utah. The results of their hustle and grind paid off, and Social Axe Throwing added two other locations in Salt Lake City and Orem, along with a mobile unit that could come to guests wherever their party was.
So, when the Social Axe Throwing team came to Firetoss for help taking their business online, we knew that this inspired, hard-working crew was the real deal and ready to take on the work required to build a grade A new website.
The Rise of Axe Throwing
When we first partnered with Social Axe Throwing, this type of activity was still a fairly new idea in business. But everyone could see the potential for the force field that the industry could become. To keep Social Axe Throwing on top of the current and potential competition, our designers and developers needed to create a website that functioned seamlessly. We wanted customers to be able to imagine the axe throwing experience they would have at Social Axe Throwing all from just visiting the site.
Focusing on UX
In order to bring this seamless experience to life, the UX design of the site needed to be intuitive and functional, giving users a taste of what makes Social Axe Throwing special. The Social Axe Throwing team wanted their website to provide users with a digital experience that matched the ease and simplicity of coming directly into their space. To do this, we focused on three major goals: simplifying their complex booking system, guiding users through the conversion path with clear content, and implementing the social aspect of Social Axe Throwing. 
Simplifying a Complex Booking System
Social Axe Throwing has three locations across the Wasatch Front, creating a booking system was a more complex task than it would be for an event center with just a single location. We had to integrate the hours of the three locations, block out times when they were selected, and allow for large parties or events to book out a time slot longer than the standard time block. On top of that, this all had to be done in the click of a button and instantly updated for the Social Axe team to see.
Our team worked hard to make this all possible, allowing users to customize their booking location, date, and time and provide additional information on the type of event, number of guests, and if the group was bringing food. All of this was done through a simple and intuitive click path and form fill, leaving no room for confusion or guesswork on the part of the customer.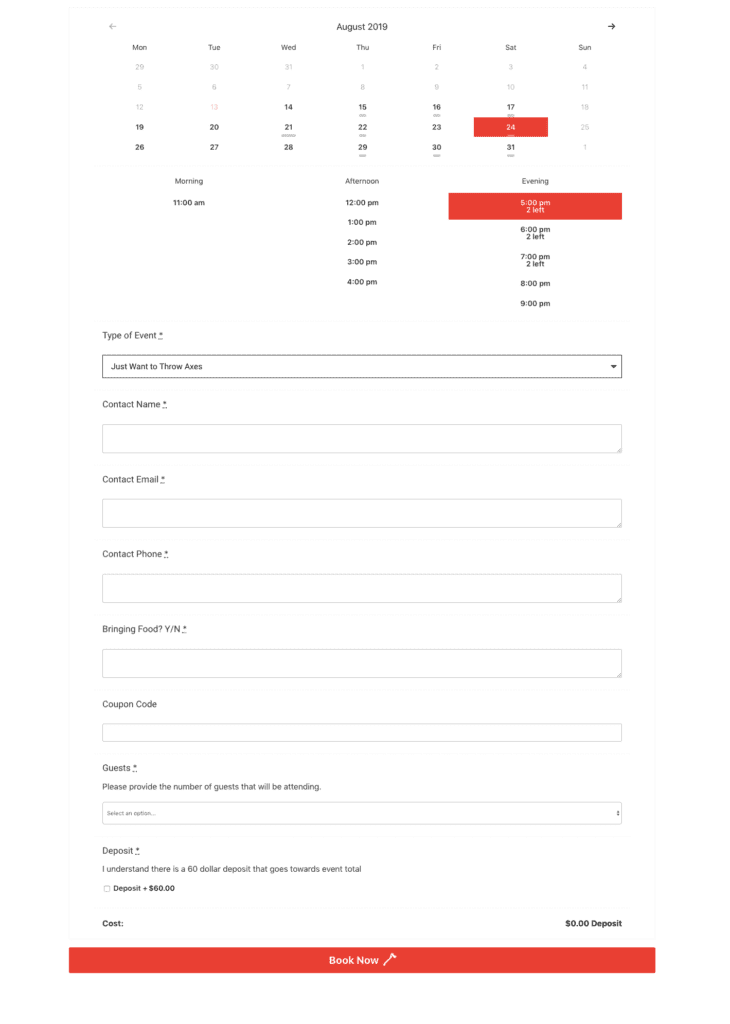 Guiding Users with Content
A major focus for the UX design of the Social Axe site was quickly guiding users through the conversion path. Unlike some other, more informational sites, the Social Axe Throwing site was not meant for users to spend a lot of time browsing. The goal was to quickly get the user the information they needed, guide them through the booking process, and get them out. 
In order to fulfill this goal, the content strategy for the UX design was to provide clear, actionable information to users. We didn't want to add too much written content, relying more heavily on images and videos. Any copy that was on the site was concise, driving users to take certain actions, such as booking. 
Putting the "Social" in Social Axe Throwing
The design of the site also had to portray the Social Axe Throwing brand immediately to users. To showcase the "social" in Social Axe Throwing, we wanted many of the images and videos used throughout the site to illustrate real people having fun in the spaces. Even more, we wanted to implement a feature that would automatically pull in the latest content from Social Axe's social profiles. This would keep the site up-to-date and provide users with a real-world look into the Social Axe experience.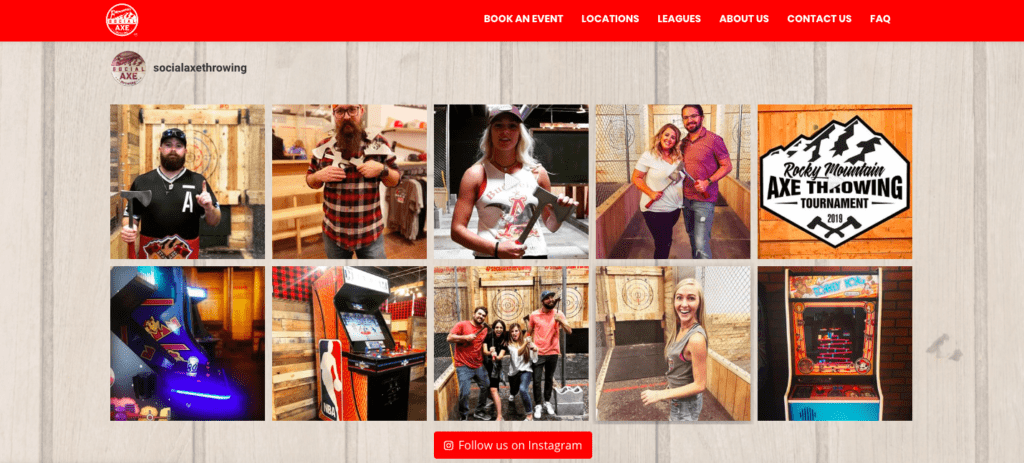 Fun For Everyone
Overall, we had such a fun time working on the Social Axe Throwing site and could not be more proud of how it turned out. Each element of the design was carefully thought through and aligned with the needs and goals of the site. And after we finished the build, we were able to experience the Social Axe Throwing scene firsthand. Participating in an office axe-throwing tournament, we all had so much fun and became master axe-throwers. What can we say, here at Firetoss we work hard but play harder!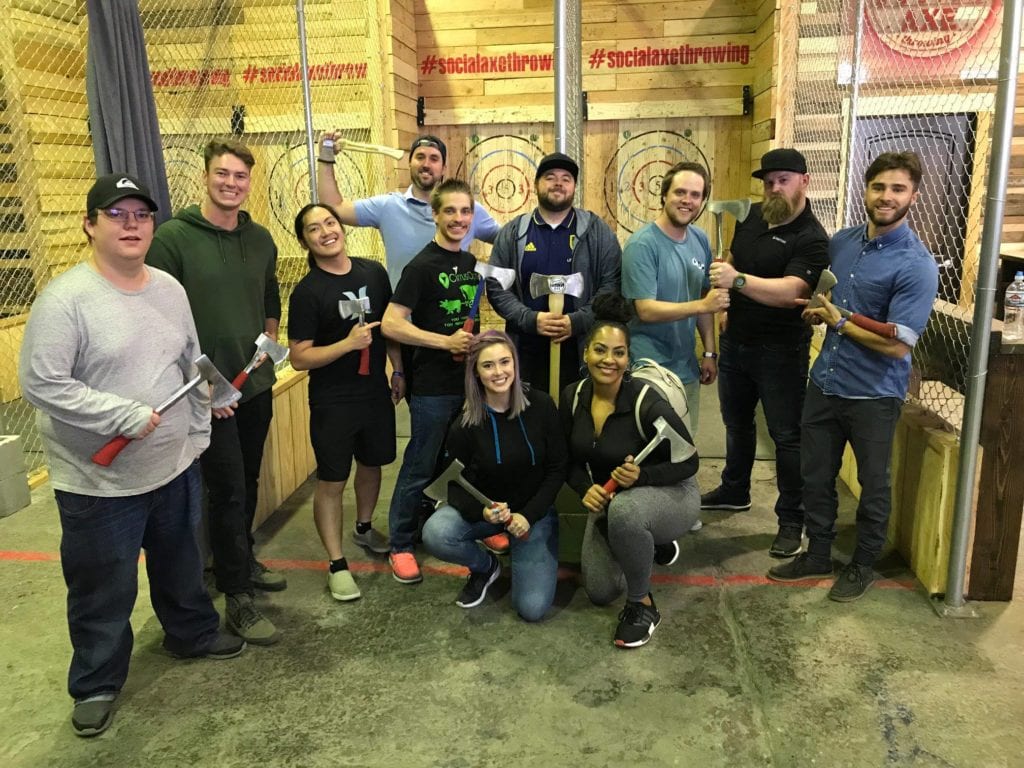 Projects that give us the opportunity to work with local businesses are always favorites of ours. They allow us to see the impact our efforts make on the business, providing the reward and motivation to keep us working hard for all of our clients. If you are in need of any web or marketing services, contact us today and see how we can help you hit the digital mark.