All Articles
Serving Up Something New with Oatsome
By Tayler Patterson
As a full-service digital marketing agency, we get the opportunity to work with a lot of great companies. The combination of amazing people with amazing businesses keeps us inspired to work hard every day. And one of the companies we love working with is BetterBody Foods. We recently worked with them to launch a site for their newest product, Oatsome, a non-dairy milk made from organic rolled oats.
Partnering with BetterBody Foods
We were excited to collaborate with BetterBody Foods for the Oatsome website because we already had an existing partnership with them, having designed and developed the website for one of their other awesome products: PBfit. 
PBfit is BetterBody Foods' flagship product and is a peanut butter powder that has 90% less fat and ⅓ of the calories of regular peanut butter. We worked with BetterBody Foods to build a new website specifically for PBfit to expand their online presence, drive sales, and improve ROI. Because of the success of this project, BetterBody Foods brought us back on for Oatsome and we were excited to get back to work with them once more!
What Makes Oatsome Great
When BetterBody Foods introduced us to Oatsome, we knew that this product had the potential to shake up the market for milk alternatives. Oatsome is free from dairy, nuts, added sugars, and anything artificial. Whether you are vegan, allergic to milk or nuts, or simply don't like the taste of milk, Oatsome is the perfect choice. 
The Challenges
Design
The first challenge we had to overcome when we began working on the Oatsome site, was the lack of available imagery. The product had not been finalized yet, meaning we had to begin our designs without anything to go off of. Although this made it difficult for our designers to truly envision what the final site would look like, they were able to collaborate with the BetterBody Foods team and put in the time and effort to make it work. From late nights to weekends spent working, our designers never settled. We wanted to make sure the design met the needs of the BetterBody Foods team before the big product launch and that's exactly what they got.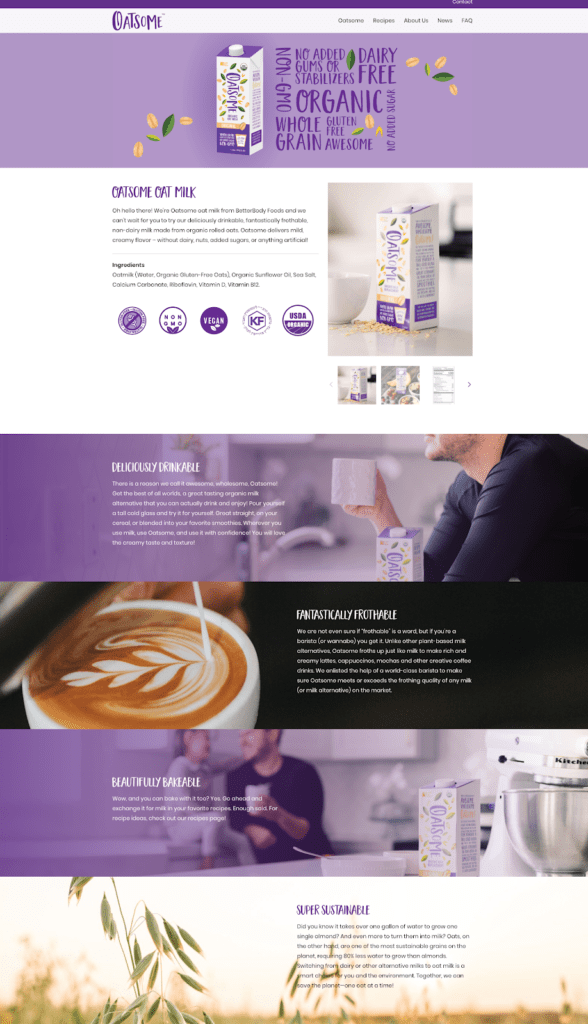 The whole site really came together in the latter stages of development, when we got our hands on the final imagery and assets. The imagery allowed our team to put the finishing touches on the design and polish it up. This made the site feel more tangible and was extremely exciting for both our team and BetterBody Foods.
Content
Another challenge that BetterBody Foods faced when launching Oatsome, was getting consumers to try a new non-dairy product. There has been an increasing number of individuals choosing non-dairy alternatives over milk, but many opt for well-established beverages like almond or soy milk. So, working with BetterBody Foods on this new site to launch their new dairy-free milk, we had to figure out how to convince these consumers to trust this new product over other counterparts. 
After thinking through the goals of the new site and product, the solution we came up with was content. We used content on the new website to educate consumers on the benefits of oat milk over other choices. This helped showcase all of the ways oat milk can be used and that the health and taste benefits actually outweighed other non-dairy products. 
We had to keep in mind the tone of the content though. We didn't want it to be too overwhelming or boring, which would result in users leaving the page. This meant we had to find a way to educate consumers in a fun and engaging way that kept them on the site and piqued their interest in the product. To do this, we focused on using a more casual and amusing tone of voice. We wanted to put the brand first and create more conversational content that entertained users and kept them wanting to learn more.
Photography
Another way we pushed to educate and inform consumers was with the photography on the site. We used real photography that showcased Oatsome being used in everyday scenarios instead of stand-alone product shots. From baking to cereal to even coffee, the photography on the site gives users a real look into the wide-ranging ways in which oat milk can be used. 
The Outcome
After the Oatsome website launched, our team couldn't have been more proud of the final product. Our designers utilized the combination of fun, digestible content, and real, informative photography to create a seamless user experience that would draw the consumer in and educate them on why they should choose Oatsome the next time they are walking down the grocery store aisles. 
Recipe Section
One of our favorite features of the site is the recipe section. Following our goal to give users valuable content that would show them all of the many ways in which they could use Oatsome, we created this fun feature. Many product-based websites don't offer this feature to their users and if they do, it is usually only two or three recipes. For Oatsome, there are a variety of recipes- from soups to lattes – that potential customers can use to understand how oat milk can be used.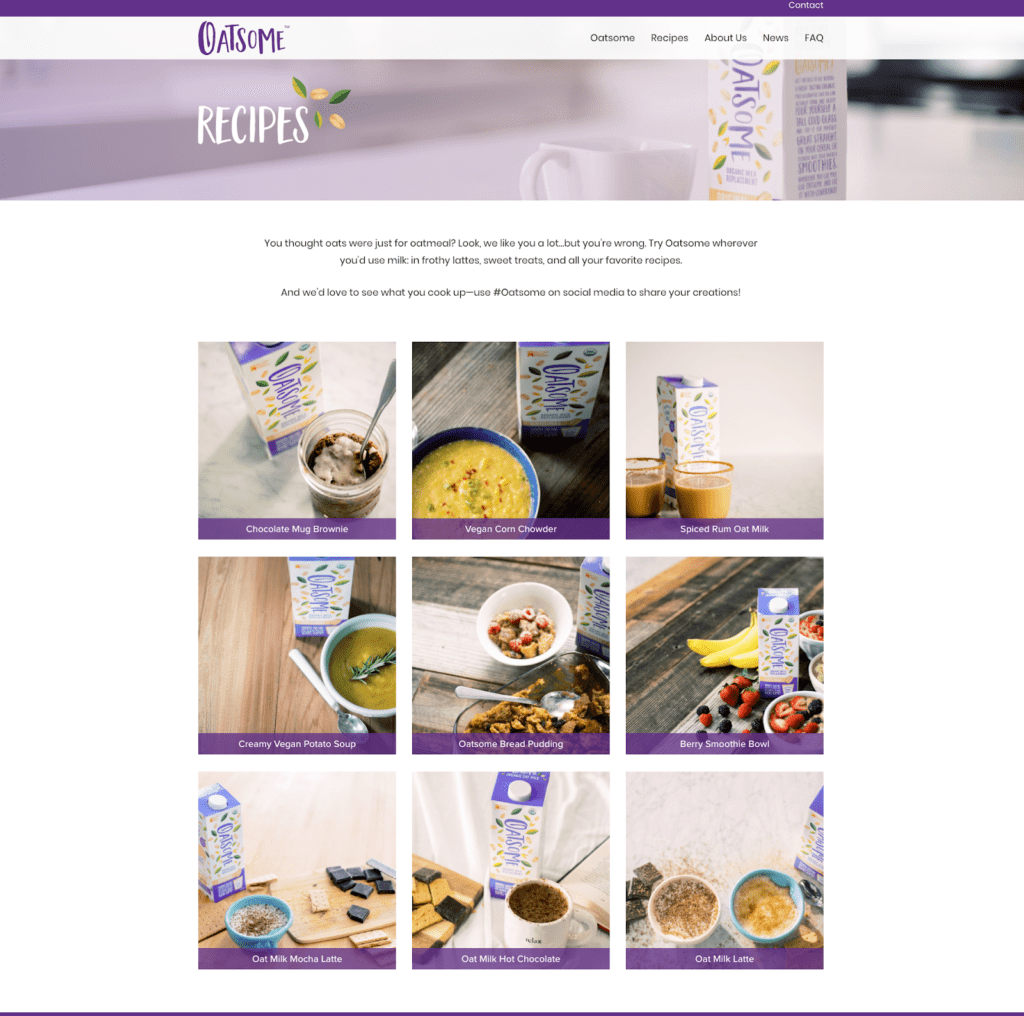 Moving Forward
Moving forward, we are excited to continue our relationship with BetterBody Foods and are currently working on redesigning their main site. We love the people behind the company and we love showcasing their amazing products even more. Keep an eye out for the new BetterBody Foods website and while you are waiting, check out PBfit and Oatsome!
If you are in need of web design services for a new site or a redesign of your current site, our designers and developers are here to help. Contact us today and learn why our work can speak for themselves!