All Articles
Redefining Health Insurance With O'NA HealthCare™
By Tayler Patterson
Here at Firetoss, we get the opportunity to partner with many amazing businesses and we love working with people who are passionate about what they do. O'NA HealthCare™ is a company that offers holistic healthcare coverage plans, and we have loved working with them to improve their digital strategy and drive more traffic to their site. Keep reading to learn a little more about what makes O'NA unique, as well as the strategies we used to grow their online presence.
What Makes O'NA HealthCare™ Great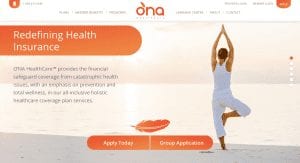 In a world where healthcare coverage is expensive, restrictive, and all together complicated, O'NA HealthCare™ is forging a new path committed to health, wellness, and most importantly, their customers. O'NA provides an alternative option to traditional insurance, offering holistic healthcare plans based on natural and pre-emptive care and true wellness. The company's mission is to help you live a truly healthy life and offers individual, family, and group holistic healthcare coverage plans. Some of the unique benefits O'NA HealthCare™ offers include:
365 Day Open Enrollment

Traditional and Holistic Treatment Options

Health Savings Accounts

An Open Provider Network

24/7 Phone Doctor Access

Medical Tourism

Low Cost Coverage
From yoga to medical treatments, O'NA HealthCare™ provides coverage that is all-encompassing. Rather than providing temporary solutions to treat sickness or disease, O'NA wants to help you prevent and cure what ails you.
Partnering with O'NA HealthCare™
When partnering with O'NA HealthCare™, we began by providing SEO marketing services to increase their organic traffic. After seeing success there, we had the opportunity to help them build a new website to better demonstrate the amazing benefits they offer. After the new site was pushed live and throughout our partnership, we have been able to continue layering on additional marketing services such as PPC advertising, email marketing, and more. The combination of marketing efforts and channels has been a huge success in gaining traction and bringing customers to O'NA HealthCare™'s website. Here's a quick look into the processes that were the driving forces behind this successful partnership.
Marketing Services
When we started working with O'NA for SEO, we audited their site and conducted competitive research. This helped us learn more about the difficult industry they were in as well as create a strategy moving forward. What we found was that although O'NA HealthCare™ competes in the insurance industry, their coverage of complete holistic healthcare was still pretty new. There were few keywords to capitalize on, so we had to approach their website from a different angle.
We started by focusing on the messaging and branding of the company. Every piece of content on the site and beyond needed to promote the same message. We also wanted to start providing users value immediately, creating authority and credibility in the industry. In order to raise brand awareness and establish an authoritative digital presence, we added a blog to their site. We wanted to give O'NA HealthCare™ direct access to users where they could showcase their knowledge, and a blog was the perfect way to do this.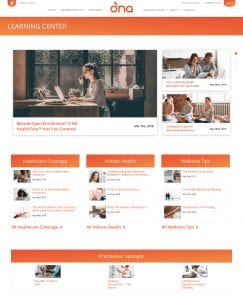 Together with O'NA HealthCare™,  we devised a blogging strategy which included organizing the content differently than many traditional blogs. We wanted to break the blog topics down into sections, creating more of a learning center for their members. Through their blogs, O'NA promotes wellness tips, healthy living, and holistic healthcare benefits. The blogs work to bring in traffic, as well as give O'NA HealthCare™ a more prominent voice of authority in the industry.
Overcoming Challanges
In September 2018, Google released a new core algorithm update that resulted in huge drops in rankings for many YMYL (Your Money and Your Life) sites. These types of sites are defined by Google as sites that could potentially impact the future happiness, health, financial stability, or safety of users. Healthcare sites were hit especially hard by the update, including O'NA HealthCare™. Through research and data analysis, we were able to better understand how these changes impacted O'NA's site and we worked with them to devise a strategy to get their rankings back.
Web Services
With the opportunity to build O'NA HealthCare's™ new site, we wanted to make the visuals light, uplifting, and on-brand. We also wanted it to be easy for customers to see exactly what O'NA offered, including all the unique benefits that traditional insurance plans don't provide. The site is highly visual, easy to navigate, and organized to provide users information without overwhelming them.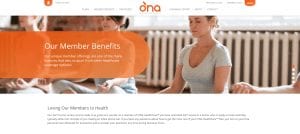 We especially love how the Member Benefits page turned out on the site. The custom-built benefits orbit makes it easy for users to visualize the multitude of benefits offered. Using this, potential members can know exactly what they will be getting by choosing O'NA HealthCare™.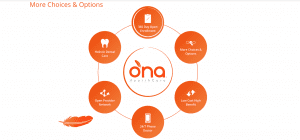 Moving Forward with O'NA HealthCare™
Since the beginning of our partnership with O'NA HealthCare™, traffic for the site has gone up substantially and we are continuing our efforts to bring more awareness and recognition to the company. In an industry as important and relevant as insurance, O'NA must continue to create brand loyalty and trustworthiness as visitors expect to see solid testimonials, accreditations and more before they decide to make the switch.
We are so lucky that we get to work with such awesome companies, carving out unique and exciting places for themselves in various industries. O'NA HealthCare™ was a new challenge for us, and we have loved working together to showcase the amazing things they offer their members. Moving forward we are continuing to adapt and evolve the strategy, providing additional services all working together to grow O'NA's digital presence. Head on over to O'NA HealthCare's ™ site to learn more about the awesome things they do!
To see how we can help your business grow online like O'NA HealthCare™, contact our team today for any of your marketing and web development needs.