All Articles
Cybersecurity for Every Business
By Dallas Miller
As the leading provider of SSL security certificates for businesses small and large, DigiCert is serious about internet security. They serve thousands of organizations globally, spanning various industries and sectors. Securing the majority of the Fortune 100 with heavy hitters like PayPal™ and Verizon, DigiCert is the real deal.
So, when the DigiCert team came to Firetoss to update their existing website, the web gods looked down on the start of a beautiful and lasting partnership, unmatched by anyone.

The Goal
When we joined forces with DigiCert, we knew this would be a large project. At first glance, the site needed to inform users that DigiCert is the world's premier provider of high-assurance digital certificates. After diving into the project head first, our team realized we would need to accomplish much more with this website update. But we also knew our team had the skills to showcase DigiCert's global suite of digital offerings in a simple and informative way.
Being such a large company, DigiCert already had an in-house team of talented designers when we began the project. Some marketing agencies don't have the skill set or experience to partner with in-house teams, but here at Firetoss, we look forward to the opportunity. The goal was to bring a more modern look and feel to the site and we were excited to collaborate with DigiCert's team to create a masterpiece that fit the brand vision.
By working hand-in-hand with DigiCert's team, our designers had the advantage of multiple perspectives. We were able to achieve greater creativity and collaboration with DigiCert's experts who were well-versed in the company history, brand, and offerings. By focusing on setting clear goals and maintaining transparent communication between each team, we created a website unparalleled in the cybersecurity industry.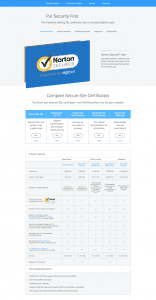 The Challenges
One of the biggest challenges of this project was customizing the site to meet the ever-changing needs of the industry. The cybersecurity sector is constantly faced with new and ongoing security threats. As new technology emerges, DigiCert must ensure their security certificates meet the new standards. This means DigiCert has to continuously update and improve their offerings.
On top of that, although we were providing a new design, the existing functionality and content of the DigiCert site needed to stay the same. As an internet security company, the site had to operate on an airtight platform.
All things considered, their new site had to be highly customizable to adapt to their wide range of content needs while functioning seamlessly. To accommodate this unique challenge, DigiCert needed a custom page builder. This meant their team could continue building new pages even after the launch based on the industry's evolving guidelines and security measures that need to be reflected in the content throughout the site.
Jointly working with DigiCert's design team, Firetoss built out 80 different pages with flexible page builders leveraging 27 unique layouts, each containing 2 to 4 variations. This gave DigiCert a huge variety of templates to use for future content needs. A huge accomplishment for our web designers, this number of necessary page templates is a rarity for most websites.
The Outcome
Partnering with DigiCert for such an exceptional project was an amazing opportunity for Firetoss. The project allowed us to showcase our advanced animation skills and create a variety of custom templates.
By collaborating with DigiCert's in-house design team, the new site is clean, modern, and easily navigable. Each page, feature, and animation serves to provide the user with the information they need in a simple, intuitive way. We couldn't be more proud of how the site turned out.
One of our favorite features of the new DigiCert website is the custom History of Innovation timeline. Complete with amazing graphics, this timeline presents a brief history of cybersecurity, along with some of DigiCert's history, in an easily digestible format for the user. This exciting feature adds interest to the site while still informing users of the reasons why they should choose DigiCert- helping them stand out from their competitors.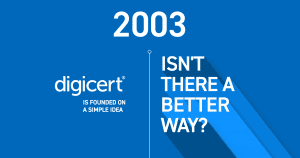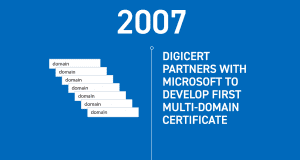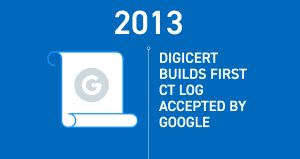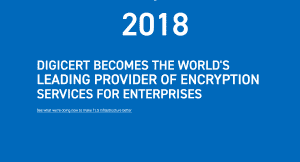 Moving Forward
Overall, we had a blast on this project. DigiCert is the world leader in cybersecurity, and every person on their team is truly committed to the mission of making internet security human. Moving forward, we are extremely excited to be starting a new project with DigiCert- contributing to such an innovative, cutting edge company is truly an honor.
If you are looking for a company that will help you build a high-functioning, customizable website, contact Firetoss today. Our expert web design team, along with our superior web development services team, have experience in multiple industries and platforms. We can help build your business a website that meets your needs, showcases your business, and keeps customers coming back.